John Cooper murder trial jury told 'use common sense'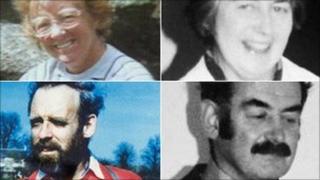 The jury in the trial of a man accused of two double murders was told to use "common sense" when reaching a verdict.
Prosecuting barrister Gerard Elias QC told Swansea Crown Court that John Cooper "had told lies in his last trial...we say he's lied to you".
Mr Cooper, 66, is accused of shooting Richard and Helen Thomas in 1985, and Peter and Gwenda Dixon in 1989.
He denies four counts of murder and separate charges of rape, sexual assault and attempted robbery.
In his closing speech to the jury, Mr Elias appealed to the jury to "use their collective common sense."
When considering arguments put forward by the defence, about possible contamination of forensic evidence, he asked the jury to consider "where the evidence was" in relation to this proposition.
Mr Elias told the jury that John Cooper had attempted to distance himself from Scoveston Park, Little Haven and the Mount Estate.
"Why did he want to distance himself?" asked Mr Elias.
'Astonishing coincidences'
"Is it because he had something to hide? Perhaps even for him, the horror of those places is very real."
Mr Cooper, 66, denies killing Mr Thomas and his sister Helen and Peter and Gwenda Dixon in Pembrokeshire in the 1980s.
The Thomases were shot at their house at Scoveston Park near Milford Haven on 22 December 1985.
Mr Elias said that the jury had to assess whether or not the evidence against John Cooper was as a result of "astonishing coincidences."
He referred to glove BB109, found in the field opposite the defendant's house, and linked by fibre evidence to the Dixons murders.
"How does it get to the field so close to the defendant's home? Coincidence?"
"Was it a sad fact that a balaclava the defendant says was stolen from him was used in the Sardis robbery? He didn't remember that in 1998. He told the last jury it wasn't his."
Mr Cooper has previously told the court that the balaclava may have been stolen from his boat.
And defence barrister Mark Evans QC has argued that other evidence, such as that taken from the Dixons' murder scene in 1989, could have contaminated the evidence taken from Mr Cooper's home nine years later.
Mr Elias reminded the jury that the defendant was convicted of "a series of serious offences which began in April 1983 through until November 1996... they had a similar pattern...targeting isolated properties backing onto fields."
Mr Elias will complete his closing speech tomorrow, and the defence will begin their closing submissions at 1100 BST. The case continues.