Prince's Myddfai neighbours open herbal store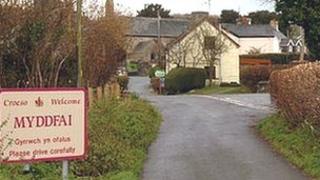 A village with a royal neighbour is preparing to open a community centre and store offering a modern take on its link with herbal traditions.
Myddfai in Carmarthenshire won more than £400,000 lottery backing to revamp its facilities and market its produce.
The herbal teas, soaps and plant-based cosmetics, draw on the 13th Century Physicians of Myddfai who were renowned for their herbal remedies.
Prince Charles has nearby Llwynywormwood as a base when in Wales.
A weekend of festivities is planned from noon on Saturday to mark the opening of the community hall and visitor centre, replacing the village hall which was demolished last year.
In addition to its herbal products, Myddfai plans to market itself as a destination for well-being breaks and other holidays amid the Brecon Beacons.
The regeneration project is one of six being documented by the BBC Village SOS series, to be screened later in the year and presented by Sarah Beeny.
Village champion Jo Gideon, from Ramsgate, moved to Myddfai last year as part of the scheme to lend her business skills and experience to the venture.
She said: "I've learnt a lot about the challenges of setting up a business venture in a rural community.
"Now the real work begins of making this project a sustainable success, a responsibility which now lies with the community.
"This has been a rollercoaster full of highs and lows along the way and I have to say that this has been one of the most challenging experiences of my life.
"I've learnt a lot about myself both personally and professionally. It has certainly helped me understand rural communities better."
The village's brand, The Myddfai Trading Company, recently won the Countryside Alliance National Award for Welsh Rural Enterprise of the Year.
The Physicians of Myddfai lived in the area in the 13th Century and were renowned for their healing powers.
They spawned a tradition of medicine which continued for centuries and their history became entwined with folklore.