Volunteers to reopen Theatr Gwaun in Fishguard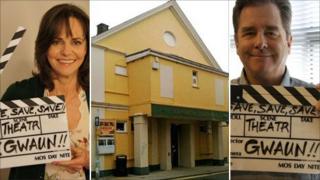 A theatre that closed in March when the council ended its funding is to be reopened by volunteers.
Campaigners have been handed the keys to Theatr Gwaun in Fishguard, Pembrokeshire, after striking a deal with the county council.
They say they plan an expanded programme of films and live events to appeal to a wide audience.
Their fight won the backing of celebrities including actors Hollywood actors Beau Bridges and Sally Field.
Pembrokeshire council said it could no longer afford to run the theatre and cinema because it was losing over £60,000 a year.
But after almost a year of negotiations the authority has agreed to lease the building for three years at a peppercorn rent to a company set up by the Friends of Theatr Gwaun.
It will now reopen on 4 June under the new name '4U at Theatr Gwaun'.
Friends spokesman Derek Webb said the new name reflected the need to have a diverse variety of events to appeal to as many people as possible.
"We want to appeal to all sections of the community, and all ages.
"That doesn't mean trying to please all the people all the time, it means putting on a series of events, each of which we hope will attract a certain section of the community - music, drama, comedy, film, whatever you want."
He said there were also plans to open a licensed bar and a coffee shop.
Mr Webb said volunteers were already in place to cover every job from ushering to box office duties but they would always welcome more.
The council's cabinet member for cultural services and tourism Rob Lewis said: "We are delighted to have reached an agreement over the future of the facility and we wish the Theatr Gwaun Community Trust every success in the future."