Ben and Catherine Mullany Antigua murder trial delayed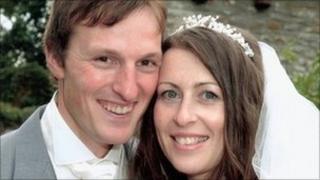 The trial of two men accused of the murder of a honeymoon couple in Antigua has been delayed.
Avie Howell and Kaniel Martin were due to appear in the Caribbean island's High Court on Monday to answer charges of killing newlyweds Ben and Catherine Mullany.
But the matter has now been adjourned for a further 10 days.
Mr Mullany's uncle said the families said they had been waiting "too long" for the case to begin.
It is nearly three years since qualified doctor Mrs Mullany and her student physiotherapist husband Ben, both from Pontardawe near Swansea, were shot in their hotel chalet at Antigua's five-star Cocos Hotel on July 27, 2008 - just over a fortnight after the couple had married.
Mrs Mullany died instantly, while her husband, who was studying physiotherapy at the University of the West England in Bristol, was placed on a life-support machine.
He was flown back to Morriston Hospital in Swansea but died a week later.
The couple were buried in the grounds of the church they had married in a little over a month previously.
Avie Howell and Kaniel Martin were charged with killing the newlyweds, as well as three other murders.
They are also accused of killing mechanic Tony Louisa, 43, student Rafique Kareem Harris, 24, and Woneta Anderson Walker, a 43-year-old shopkeeper.
The trial had been scheduled to commence this week but the legal team representing the two defendants want their clients to face the five murder charges separately.
At a previous hearing Judge Mr Justice Richard Floyd said the court would make a decision how the trial would proceed on Monday.
But a spokeswoman for Antigua's Director of Public Prosecutions said proceedings had now been adjourned until June 1 - when the cases of Mr and Mrs Mullany as well as Mrs Walker are expected to start.
The cases concerning Mr Harris and Mr Louisa will begin at a later date.
The uncertainty has meant Mr and Mrs Mullany's families have been unable to book flights or accommodation to Antigua in order to sit in on the trial.
Ben's uncle Michael Meredith, 58, said: "We have been told many times a trial is going ahead, only for things to change.
"In the families' eyes we have been waiting too long for matters to be resolved.
"All we can do is wait, and hope the case will proceed sooner rather than later."
Defence lawyer Maureen Payne-Hyman told a judge she wanted all four murder cases tried separately because she is scheduled to leave the jurisdiction by mid-July - therefore unavailable for the entirety of a joint trial, which is expected to last at least two months.
The request irked the prosecution, who said that trying all murder counts separately would cause more delays.
Director of Public Prosecutions Anthony Armstrong said: "It would have been far more prudent for the defence to raise this issue at the assizes hearing in January, when the original date was set."
The Foreign and Commonwealth Office added it was in regular contact with the authorities in Antigua and hoped the matter would be concluded as soon as possible.
A spokesman for the Metropolitan Police, which led the team of British detectives deployed to Antigua in 2008, said it would not be commenting on the case.
The couple's loved ones have set up a charity to preserve their memory.
The Mullany Fund provides financial assistance to UK undergraduates studying medicine or physiotherapy.
Its patrons include Duchess of York Sarah Ferguson and former West Indies cricketer Sir Viv Richards.