Swansea drummer back home after car crash in Slovakia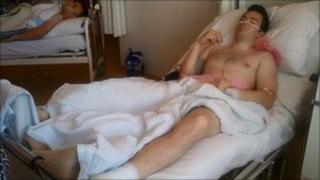 A drummer has been flown home after being pulled from a burning car following a crash in Slovakia while on a tour of Europe with his band.
Chris Billingham, 22, spent a week in hospital in Zilina and needed plates in his thigh and calf after injuries suffered in the accident.
Swansea-based rock band Lost in Thought were on their first European tour.
The accident happened while they were travelling from Budapest in Hungary to Warsaw in Poland.
"It's been a traumatic time," said the drummer's father David Billingham.
"The band were supporting another group, Delain, and the tour started in the UK before crossing into Europe starting in Strasbourg.
'Wreckage'
"They played a show in Budapest last Monday and were heading to Warsaw and they were involved in a road accident on a main road with the back of a truck.
"Chris was the driver at the time and the emergency services had to cut him out of the wreckage.
"While they were cutting him out of the wreckage, his bandmates were trying to put the fire out."
Mr Billingham said his son, a lorry driver for Amazon, was experienced at driving on European roads.
He had done much of the driving in Europe as the band's original driver had returned home, and was behind the wheel at the time of the accident.
"His mother flew out to Germany as she was going to see the band anyway, but diverted to Slovakia after the accident, while I dropped what I was doing and flew to Krakow," said Mr Billingham.
"Chris has had a plate in his right thigh a pin in his right calf and bruising to his left foot, cuts and bruises.
After spending a week in Slovakia where he had two operations, Christopher was flown back to Gatwick on Monday.
He was then transferred to Bristol airport and on to Swansea where he was admitted to Morriston Hospital for further treatment.