Narberth murder: Plea over Angelika Dries-Jenkins' car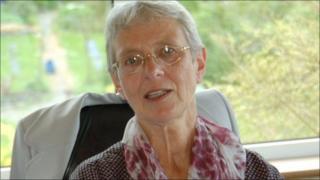 Police have appealed for information on a car owned by a woman found murdered at her home in a Pembrokeshire town.
Detectives revealed more details about the death of Angelika Dries-Jenkins, who was found in Narberth on Friday, and who would have been 67 on Sunday.
Her Skoda was taken from her home in Providence Hill and found in St Thomas Green, Haverfordwest, on Saturday.
Officers say it is a very difficult time for her family and urged anyone with information to get in touch.
Dyfed-Powys Police say Ms Dries-Jenkins could have been killed at any time last week.
The Skoda Fabia, registration GP05 LNY, which police say was coloured champagne/gold/beige, was taken from her home address.
The car was found at St Thomas Green, about 12.5 miles (20 km) away from Providence Hill, at 1300 BST on Saturday, although police are not certain how long it was there.
Det Supt Pam Kelly, who is leading the investigation, said: "She was a mother and grandmother and clearly the family are devastated.
"What's critical to this investigation is that Angelika had a Skoda Fabia car and the colour is really important."
Police believe the car was probably taken from the house around Tuesday, 31 May, and want to know what happened before it was found on Saturday.
Officers set up a road block nearby on Saturday and have appealed for help from local people who may have seen anything or anyone suspicious.
The police spokesman added: "This is clearly a very difficult time for the family and Dyfed-Powys Police are relying heavily on quality community information to assist them with inquiries."
Meanwhile, people in Narberth said they were shocked that a murder had been committed in their normally quiet community.
Anyone with information is asked to call 101.