Chevron refinery blast: Inquiry to be 'lengthy'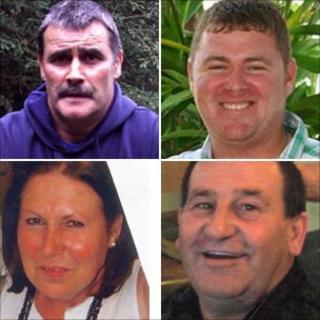 Chevron says the investigation into an explosion and fire at its Pembroke refinery will be a "lengthy process".
Workers at its UK operations held a minute's silence on Monday for each of the four workers who died in Thursday evening's incident.
A fifth worker remains in a criticial condition in a burns unit in Swansea.
Earlier, local assembly member Angela Burns said finding the cause of a blast was "crucial".
Chevron said a number of investigating teams would be continue their work at the refinery, but said the plant was continuing its operations.
Work had been suspended in all but non-essential operations on Friday.
"The investigation will be a lengthy process and we will continue to provide our full support throughout the investigations," said the company in a statement.
Julie Jones, 54, of Pembroke, Dennis Riley, 52, Robert Broome, 48, and Andrew Jenkins, 33, all of Milford Haven, died in the explosion.
A book of condolence has been opened in the refinery. Chevron had already brought independent counsellors onto the site, which employs 1,400.
The explosion occurred while a storage tank was being taken out of service for maintenance, the company said.
'Extremely grateful'
"From across Chevron worldwide, all the major Milford Haven industrial sites and our local community in Pembroke we have received a huge number of messages of condolence and offers of support, for which we are extremely grateful and touched," said the Chevron statement.
"Our focus over the coming days and weeks will be to work together to ensure that everyone on site receives the support they need from those around them."
Carmarthen West and South Pembrokeshire AM Angela Burns said finding the cause of a blast that killed four workers at the Chevron oil refinery is "crucial".
Mrs Burns also said she was "very uncomfortable" with some rumours circulating about what happened.
"I welcome the inquiry being conducted by Chevron and I know that the police, health and safety and the Environment Agency will be conducting inquiries of their own," she said.
"What is crucial is that we understand exactly what happened, learn from and implement any lessons that we can and also ensure that those lessons are communicated to the wider sector so that we can have the best possible practice in all of the energy industries based on the Haven.
"This is the time for us to stand shoulder to shoulder with the families involved and with the staff and contractors at Chevron."
Mrs Burns praised the quick response of the emergency services and the staff at Chevron.
Chevron said the explosion happened during routine maintenance of one of its storage tanks at the Pembroke refinery
The company was flying in experts from the US to assist its local investigators.
Maintenance work had been carried out on a 730 cubic metre storage tank which exploded on Thursday evening, damaging an adjacent vessel.
Dr Ivan Vince, a safety, health and environmental specialist at ASK Consultants told BBC Radio Wales that the investigators will look at two types of causes.
"The first part of the investigation is narrowing it down to exactly what happened and what were the immediate causes," he said.
"Then the route cause investigation looks at the bigger picture like the safety management systems, the adequacy of the training and procedures in general or deeper, the status of the safety culture, the working environment in general.
"I have never come across a situation where there have not been lessons to be learnt. The problem is lessons are learnt but then forgotten when personnel change."
Pembrokeshire councillor Danny Fellows has warned that the victims' families may have to wait to find out what happened.
'Massive loss'
But he said the community would be there to support them, two of which he knew, Mr Riley and Mr Jenkins who he described as "lovely, warm, popular and a pleasure to be with".
"It's going to take a long time for clarity on what happened," he said.
"There will be Chevron's own inquiry and the Health and Safety Executive's inquiry tends to take long periods of time.
"I will not be surprised if it is over 12 months before we get closure as far as the Health and Safety Executive are concerned."