Mullany murders: Jury told of ransacked bedroom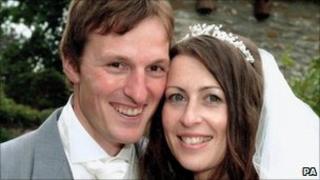 The jury in the trial of two men accused of murdering a honeymoon couple has been given a graphic description of their hotel room after they were shot.
Ben and Catherine Mullany, both 31, from Pontardawe, Swansea Valley, were attacked at the Cocos Hotel and Resort in Antigua in July 2008.
Antigua's High Court heard that clothes were covered in blood and room's safe was open.
Avie Howell, 20, and Kaniel Martin, 23, deny the murders. The trial continues.
The pair also deny killing local shopkeeper Woneta Anderson, 43.
The jury was given a description of the inside the couple's room and were shown photographs of the murder scene.
Murder scene
The court heard from Antigua's police Assistant Supt Carmel Lewis, who is also a forensic expert and police photographer.
The jury heard how the room had been ransacked. There were clothes strewn around, and on the bed was a white sheet and a blue T-shirt splattered with blood.
The court was told that the door to the room's safe was open. Lying on the floor was the body of Catherine Mullany, and by her were three spent bullet shells.
Assistant Supt Lewis said Mrs Mullany had an injury near her right eyebrow.
He told the court he took 60 photographs of the murder scene.
The trial, now in its second week, has already heard evidence from a doctor that Mrs Mullany had tried to fend off the attack
The couple were on the final day of their honeymoon when at least one gunman burst into their room at the hotel.
Mrs Mullany, a doctor, died at the scene of what appeared to have been a botched robbery.
Her husband, who was a physiotherapy student, was critically injured.
He was flown back to Britain for treatment but was pronounced dead a week later at Morriston Hospital in Swansea.
The trial continues.