Pembroke Dock honours engineer John Rennie's memory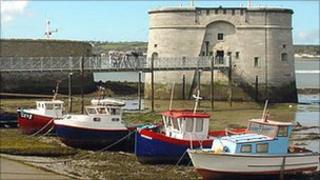 An engineer is being honoured for the role he played in shaping historic Pembroke Dock nearly 200 years ago.
A plaque is being unveiled on Tuesday marking the 250th anniversary of the birth of civil engineer John Rennie (1761-1821).
He advised the Navy on the development of a shipyard, choosing the site on which Pembroke Royal Dockyard was created in 1815.
The docks closed in 1926 after launching more than 260 Navy vessels.
Its long history is attributed to the role played by the Scottish engineer.
He is more widely known as a bridge builder, designing Waterloo Bridge in London and Southwark Bridge.
He also designed London Bridge - which was famously moved to Arizona, USA - and which was completed by his son Sir John Rennie after his death.
Stephen K Jones, historic projects consultant for Institution of Civil Engineers Wales, said Rennie senior was deserving of greater recognition.
"Rennie was one of that group of late 18th Century and early 19th Century civil engineers, and although overshadowed by the likes of Thomas Telford and William Jessop, he is a very important engineer in that period.
Mr Jones explained that Rennie's involvement with Pembroke came towards the end of his career.
"He was an advisory to the admirality, and was called on to select a new site.
"There had been a royal dockyard leased and operated for a number of years on the other side of the haven.
"But there were problems I think with continuing the lease and they wanted room for expansion.
"So they called upon John Rennie and asked him to select a new site, and they agreed with his choice."
The new Pembrokeshire Royal Dockyard was formally established in 1815, and Rennie later offered advice on the dock gates in his last engineering report produced in 1821.
Shipbuilders in Pembroke constructed 263 vessels for the Royal Navy including battleships and the Royal Yachts Victoria and Albert I, II and III.
Innovative approaches
Pembroke Dock was once the largest flying boat station in the world with 99 Sunderland Flying Boats stationed there.
The plaque will be presented by the Institution of Civil Engineers (ICE) Wales Cymru to the Milford Haven Port Authority.
Port authority engineering director Andrew Brown said Rennie's work was at the "birth" of the royal dockyard.
"Events such as these not only remind people of the importance of engineering in the past but also of the need for modern and innovative approaches to maintain the past and prepare for the future," he said.