Murder couple hotel 'cut security guard numbers'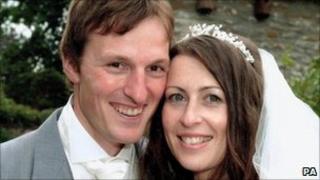 The owner of a security firm which provided services for a hotel where a honeymoon couple were murdered, told a trial its staff numbers had been cut.
Ben and Catherine Mullany, both 31, from Pontardawe, Swansea Valley, were attacked at the Cocos Hotel and Resort in Antigua in July 2008.
Robin Roberts told Antigua's High Court the hotel had the number of guards cut from five to three on duty each night.
Avie Howell, 20, and Kaniel Martin, 23, deny the murders. The trial continues.
The pair also deny killing local shopkeeper Woneta Anderson, 43.
Jurors heard Gridlock Security, which had provided security to Cocos since 2006, had their services terminated by the hotel two weeks after the murders of the Mullanys.
Mr Roberts told the court he was woken at around 5am on 27 July by a phone call from security guard Brinsley Barry.
Mr Barry informed him that an incident had occurred at Cocos and that he was needed. He said he got dressed and went to the hotel immediately.
Mr Roberts told the court, when he reached the hotel he made his way to Cottage 15 - where the Mullanys were staying.
On his way he identified himself to two police officers before being allowed to go into the cottage.
Murder scene
Jurors were told when he looked inside he saw Mrs Mullany lying on the floor next to the bed.
"She was very still," he said.
Mr Roberts said he also saw Mr Mullany sitting on a chair next to the bed along with another female who was attending to him.
He also told the court he noticed a white Toyota Corolla parked by Sugar Ridge Resort, the hotel across the road from Cocos.
The police had shown interest in the vehicle that morning and Mr Roberts stated that the vehicle remained parked on the road for another two to three days.
The trial, now in its second week, has already heard evidence from a doctor that Mrs Mullany had tried to fend off the attack
The couple were on the final day of their honeymoon when at least one gunman burst into their room at the hotel.
Dr Mullany died at the scene of what appeared to have been a botched robbery.
Her husband, who was a physiotherapy student, was critically injured.
He was flown back to Britain for treatment but was pronounced dead a week later at Morriston Hospital in Swansea.
The trial continues.