Antigua Mullanys murder: Guard 'could have napped'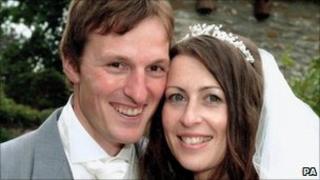 A security guard has told the trial of two men accused of murdering a honeymoon couple in Antigua it is possible he may have napped on shift.
Ian Newall was on duty at Cocos Hotel and Resort when Catherine and Ben Mullany were attacked on the Caribbean island, Antigua's High Court heard.
He was called to the cottage used by the couple, from Pontardawe, Swansea Valley, and saw them lying inside.
Avie Howell, 20, and Kaniel Martin, 23, deny the murders. The trial continues.
Mr Newall conceded in court that he may possibly have been napping on his shift, which began at 7pm and finished at 7am on 27 July, 2008.
The guard told that the hearing that it was possible to nap while standing up. He said that anyone who lay down while doing the job would be sacked.
Rear gate
Mr Newall said he had neither heard nor seen anything suspicious or unusual before two guests from one of the the resort's cottages shouted at him.
When he entered cottage 15, he said he saw Mrs Mullany, aged 31, on her back on the floor. There was was blood on the back of her husband's neck and on the bed.
After police were called, Mr Newall said he checked the perimeter around the cottages. A rear gate to the property nearby the cottage had been opened, and he closed it.
The two defendants also deny killing local shopkeeper Woneta Anderson, 43.
The couple were on the last day of their honeymoon when at least one gunman burst into their room at the hotel.
Mrs Mullany, a doctor, died at the scene of what appeared to have been a botched robbery. Her husband, also 31, who was a physiotherapy student, was flown back to Britain for treatment but was pronounced dead a week later at Morriston Hospital in Swansea.