Angelika Dries-Jenkins Narberth murder: Man remanded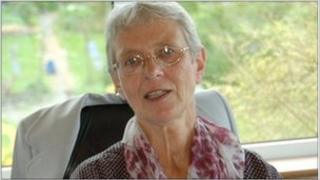 A 54-year-old man has appeared in court charged with the murder of Angelika Dries-Jenkins, whose body was found at her home in Narberth, Pembrokeshire.
John William Mason, from Pembrokeshire, was remanded in custody at Llanelli Magistrates Court.
Ms Dries-Jenkins's body was discovered on Friday, 3 June, two days before what would have been her 67th birthday.
A post-mortem examination confirmed that she had died from "substantial" head injuries.
The accused man was charged with her murder a week after her body was found by her daughter, who had made a surprise visit ahead of her mother's birthday.
The case has been referred to Swansea Crown Court.
Ms Dries-Jenkins, a grandmother, lived alone at her home in Providence Hill.
Originally from Germany, she moved to Pembrokeshire 40 years ago on honeymoon and chose it as her home and a place to raise her family.
After her body was discovered, neighbourhood police teams and special constables patrolled communities in and around Narberth.
Det Supt Pam Kelly said: "The level of support we have received from people living in and around Narberth has been remarkable."