290 Swansea call centre jobs under threat at Conduit UK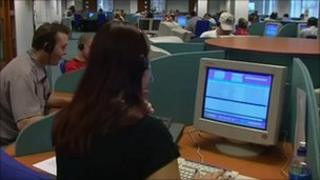 Nearly 300 jobs are under threat in Swansea at a call centre outsourcing company.
Conduit UK said it had lost a major client which had undertaken a "strategic consolidation of suppliers".
The firm said work for 290 will end in October unless it finds new clients.
Chief executive Denis Creighton said: "Whilst we are hugely disappointed to lose a key client, our main focus is on ensuring that we support our staff during this difficult period."
He added: "We are confident that we can attract new business to our Swansea call centre in forthcoming months."
Conduit UK said it had created "hundreds of jobs" in south Wales in the last year, with bases in Cardiff and Swansea.
In February it was one of six large employers taking part in a jobs fair in Cardiff offering more than 500 call centre posts.
Company spokesman Chris Hodge said at the time recruitment agencies had reported an increase in job vacancies.