Antigua Mullanys murder: Couple were both shot in head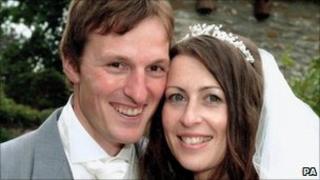 A honeymoon couple murdered in Antigua both died from gunshot wounds to the head, a trial on the island has heard.
Catherine and Ben Mullany, both 31, from Pontardawe, Swansea, were attacked in the Caribbean in July 2008.
Doctor Derek James, senior forensic pathology lecturer at Cardiff University, gave evidence that both were shot in the back of their heads.
Avie Howell, 20, and Kaniel Martin, 23, deny the murders, and the murder of a local shopkeeper. The trial continues.
The couple were on the last day of their honeymoon when they were shot.
Mrs Mullany, a doctor, died at the scene while her husband, who was a physiotherapy student, was flown back to Britain for treatment but was pronounced dead a week later at Morriston Hospital in Swansea.
The court heard Dr James conducted post-mortem examinations on the couple on 5 August, 2008.
A security guard who was on duty at the Cocos Hotel and Resort has previously told the trial it is possible he may have napped on shift on the night the Mullanys were killed.