Bravery nomination for Swansea Pc after car crushed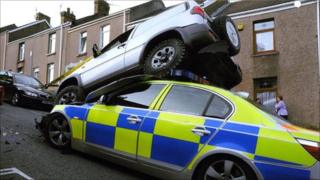 A policeman who thought he was going to die when a suspect reversed a 4x4 vehicle over his patrol car has been nominated for an award.
Pc Gregg Parry tried to stop a vehicle when he saw the driver using a hand-held phone in Swansea two years ago.
The driver reversed three times into the patrol car, ending up on top of it.
The officer escaped and arrested one of the occupants. Sgt Kevin Brooks is also nominated for a Police Bravery Awardn award after arresting the driver.
Pc Parry chased the Nissan Terrano in April 2009. The pursuit ended on a steep hill when the 4x4 reversed at speed into his patrol car.
The Nissan ended up on top of the police car, crushing the windscreen, and with only one wheel remaining on the ground.
Pc Parry escaped and caught the passenger. His colleague arrived and rugby-tackled the driver.
The driver was jailed for six years in July 2009 at Swansea Crown Court after admitting dangerous driving and attempting to cause grievous bodily harm to a Pc.
The South Wales Police Federation said Pc Parry faced great difficulty escaping from his car, and thought he was going to be killed.
Gary Bohun, the federation's chairman, said: "These two officers behaved with a brave disregard for their own safety in order to bring these violent criminals to justice.
"They've acted in accordance with the best traditions of the British police service by placing themselves in danger to protect the general public and they deserve huge praise for their outstanding actions.
"They've brought great credit to the South Wales Police and typify the police mentality where officers are still prepared to cross the road to reach danger whereas others may walk across the road to avoid it."
The Police Bravery Awards will be held in London on 7 July.