Milford, Holyhead coastguard campaigns back MPs' report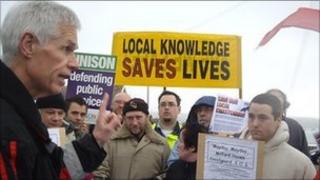 Campaigners fighting the closure of two Welsh coastguard stations are urging UK ministers to accept an MPs' report saying the plan should be dropped.
The Commons Transport Committee said its inquiry raised big safety concerns.
Under the plans, Milford Haven and Holyhead stations would be among those across the UK to close and Swansea would become part-time.
UK Transport Secretary Philip Hammond has said the plans do not affect safety.
But Dennis O'Connor of the Save Milford Campaign said changing course would not be a U-turn, but a decision based on common sense.
Under the proposals the number of coastguard centres open 24 hours a day in the UK would be reduced from 18 to three.
They would be at Aberdeen, in the Southampton and Portsmouth area and at Dover.
The five sub-centres open during daylight hours would be at Swansea, Falmouth in Cornwall, Bridlington in East Yorkshire, Belfast or Liverpool, and Stornoway or Shetland.
There have been protests at both Milford Haven and Holyhead over the proposals, with campaigners claiming a loss of local knowledge could delay rescues and risk lives.
Mr O'Connor, who gave evidence to the committee of MPs, said he was hopeful the Milford campaign had done enough to secure the 24-hour future of the station.
"One of the things we've campaigned for is for the plans to be scrapped entirely and for the government to start again with a blank sheet of paper," he said.
"It's been said repeatedly the status quo is not an option and I think that's been accepted to a point, but they should not make changes for the sake of change.
"[If the report is accepted] it should not be viewed as a U-turn but it should be viewed as a common sense decision."
Joe Lock, who organised protests in Holyhead, said he welcomed the committee's report.
'Flawed, dangerous'
"All the way through this we were saying the proposals were flawed, dangerous and ultimately would risk lives," he added.
He called on the government to scrap its plans and urged widespread consultation with coastguards and the communities where stations were based before any new plans were put forward.
"We would all like to see modernisation of the coastguards but it should not be a money saving exercise," he added.
Launching the transport committee's report, chair Louise Ellman said the proposals were "seriously flawed" with little support.
"We accept there is a need for some modernisation," she said.
"While there is a case for reducing the total number of rescue co-ordination centres, any future reorganisation of the coastguard should be based on 24-hour centres, as they are now, and not on stations open only during daylight hours, as the government proposes."
Mr Hammond said during the consultation process the government had received "a large number of high-quality responses" and it would publish its proposals later in the summer.
"The original proposals do not compromise safety and include increased resources for frontline rescue services," he added.
"Reform will improve resilience in the system through improvements to IT and create better career opportunities for staff, as well as better pay and conditions.
"As the committee says, the need for reform is not in question. I am confident that through this genuine consultation process we will deliver the right solution."