Swansea Met university 'backward' march in Denmark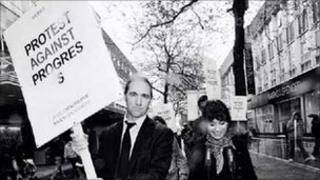 Academics from around the world will take part in a "backward" march as part of an art project founded at Swansea Metropolitan University.
The Protest against Progress march takes place from Monday at the fourth International Deleuze Studies Conference, in Copenhagen, Denmark.
It was chosen after a successful march backwards in Swansea last year.
Those behind it said its street theatre was against a world which was "information-obsessed and homogenous".
The Met's international project centre for research into events and situations (Ipcres) are behind the event.
"Ipcres is concerned with research into the construction of fictional events and situations and their impact upon an individual's everyday experience," said Ipcres director Dr Paul Jeff.
"In a world that has become information-obsessed and homogenous, Protest against Progress is an example of our experimental work, via which we try to inject enigmatic qualitative lived 'moments' into the urban space.
"It is a piece of theatre carried out on the streets with the general public as its unwitting audience."
In May last year, members of staff and students at Swansea Met's faculty of art and design marched through Swansea.
The event involved participants facing forwards and taking one step forward and two steps backwards, moving slowly in reverse through the streets.
Participants started at Swansea's Castle Square and eventually ended up outside the Grand Theatre, while also holding placards which said "avoid catastrophe, march backwards".
Dr Jeff added: "Following our successful march in Swansea last year, we have been asked to lead an assortment of international academics on a 'backwards' march through Copenhagen, reflecting on the events around the world this year.