Swansea man filmed council colleagues in toilet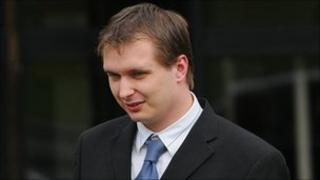 A man who secretly installed a camera to film female colleagues at Swansea council using a toilet must attend a sex offenders programme.
Matthew Hopkins, 29, now of Brecon, who no longer works for the authority, then made a DVD of the footage.
Swansea Crown Court heard the sound-activated camera was set-up in a disabled toilet which female colleagues also used as a changing room.
Hopkins had admitted 14 counts of voyeurism at a previous hearing.
Sentencing him Judge Keith Thomas said: "This was a grossly offensive breach of their right to privacy.
"It was also a gross breach of trust to spy on people who you worked with.
"A number of your victims feel embarrassed and violated."
As well as the three year supervised community order Hopkins was made the subject of a restraining order for seven years.
The court had previously heard his activities were discovered by his former girlfriend in April this year.
She then told his colleagues. The court heard CCTV footage showed Hopkins near the vicinity of the camera early the day after she confronted him when it is thought he dismantled it.
Hopkins, who had no previous convictions, told police he had bought the camera on eBay.
The court heard the DVD was for his own sexual gratification and he had not made or distributed copies.