Old Llanelli nursing home will not house ex-offenders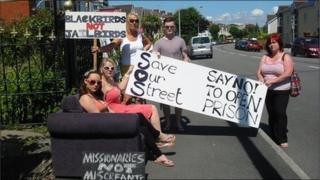 Plans to house ex-offenders in a former nursing home in Llanelli which sparked a protest will not go ahead.
Around 300 people protested, some taking their sofas into the street, after the St Elli nursing home on Queen Victoria Road was identified as a site.
Swansea-based charity Caer Las said it had lost out in its bid for the building.
Protesters welcomed the news but said they were concerned the hostel would open at another residential location.
They are staging another public meeting on Wednesday.
Queen Victoria Road resident Catrina Waldron said: "We are very relieved about it.
"We thought it was an inappropriate location and too big.
"We had a lot of support from throughout Llanelli so we don't think it would be fair for us to back off until we have transparency from Carmarthenshire council."
She said they wanted assurances that residents living near any new proposed site would be informed and consulted as they were concerned no planning permission was needed.
She said council officers had been invited to attend Wednesday's meeting at the Selwyn Samuel Centre at 1830 BST.
Last Sunday people protested outside the nursing home - some carrying their sofas into the road.
Andrew Templeton, head of human resources at Caer Las, said: "Our bid to purchase the former St Elli nursing home was unsuccessful due to another bidder being in a better position to complete in a shorter time frame.
"The site would have provided temporary accommodation and support to ex-offenders to help them reintegrate back into mainstream society and turn their lives around."
Carmarthenshire council's head housing, Robin Staines, confirmed officers could not attend Wednesday's meeting.
"We are keen to meet with residents to discuss their concerns and have offered to meet with representatives of the residents' group in the near future," he added.