M&P Motorcycles in Swansea opens at new site after fire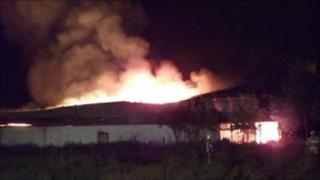 A motorcycle parts and accessories firm in Swansea has reopened at a new site less than a week after fire destroyed its premises.
At its height, eight fire engines, two aerial appliances and two water bowsers tackled the blaze at M&P Motorcycles in Gorseinon, last weekend.
The company has found temporary office and storage space, workshop and showroom yards from the former home.
It says it plans to rebuild the business.
Mid and West Wales Fire and Rescue Service spent 22 hours tackling the fire and damping down after being called there just before midnight on 25 June.
Company director Lynette Ballard said the cause of the blaze at its 42,000 sq ft (3,900 sq m) premises was still under investigation.
Meanwhile the firm, which employs more than 60, is operating from the former TNT site on the business park.
The firm, which describes itself as "Europe's largest motorcycle parts and accessories company," had been taking mail order since Tuesday and dispatching parcels since Wednesday, she said.
A workshop has been operating since Wednesday while a shop is opening on Saturday.
Ms Ballard said: "We're back in less than a week. We are dealing with customers and we are what we were before but maybe a bit smaller.
"We are immediately opposite the M&P site. It's completely destroyed. We call it the relic. But the plan is to rebuild it, all being well."
M&P Motorcycles was founded by Ms Ballard's partner Mark Collings in Swansea in 1978. The firm later moved to Fforestfach before relocating to Gorseinon in 1999.
The fire is only a couple of miles from the serious tyre blaze in the old Mettoys factory in Fforestfach, which has been burning since 16 June.