Go Compare's Wynne Evans delight at Phantom role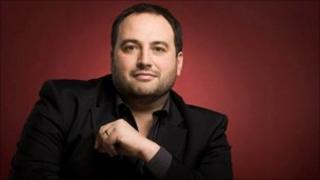 His TV adverts have twice been voted the UK's "most irritating", but they have probably landed opera star Wynne Evans with a dream role.
Evans, from Carmarthen, who stars in the Go Compare commercials, will join the cast of The Phantom Of The Opera for its 25th anniversary.
The 39-year-old tenor will join other stars in three performances at the Royal Albert Hall in October.
Evans's debut album went to the top of the classical charts in March.
The father-of-two rose to fame playing moustachioed Gio Compario in the TV adverts, a break which has led to more work.
Now living in Cardiff, he has performed with Welsh National Opera and sung the national anthem at Wales rugby internationals.
There has also been a documentary on Welsh-language television channel S4C.
He still has ambitions including to duet with fellow Welshman Sir Tom Jones.
Global event
First he has the role of Piangi to contend with in Phantom. He was handed it on the spot by creator Andrew Lloyd-Webber and musical producer Sir Cameron Mackintosh.
"Andrew and Cameron know I'm quite a good character actor and I think it's an ideal comic part for me," said Evans, who added he was delighted to get the part.
"I saw it 25 years ago and I saw it the other day. This is going to be massive because it'll be a global event."
Evans, who studied at the Guildhall School of Music and National Opera Studio, said he had offered to audition for Lord Lloyd-Webber.
"But he said the last thing he wanted me to do was sing because he'd heard me singing for years.
"I was surprised by that, but I suppose I have come to the wider attention of the public through the adverts. Andrew might have been one of those who hadn't seen them though."
Evans said he is often approached by the public and asked if he is the "Go Compare" man.
"There's a lot of nudging going on when I'm out shopping. Kids love it and they come up to me. The small amount of fame I have is quite a novelty, especially for an opera singer.
Despite this, Evans insists he is the "same ordinary person".
"Nothing has changed really. I live in the same house, I drive the same car and I'm not tempted to buy a Bentley. I've got my Saab and I'm happy with it."
His recent success means he has worked with idols, including Dame Shirley Bassey and fellow opera star Bryn Terfel.
'Archetypal fat opera singer'
Evans sang Ave Maria at a recent tribute concert for the late James Bond composer John Barry.
"When I arrived at the Albert Hall I was asked if I'd share a dressing room. I wasn't keen, but asked who I'd be sharing with and I was told it was Sir Michael Parkinson and (James Bond actor) Timothy Dalton.
"We sat there back stage and talked about the most normal things. It was a memorable evening.
"I know this wouldn't have happened had it not been for the Go Compare adverts, and I know I wouldn't have had a six-album record deal with Warner without them."
The adverts started in 2009, but it seems Evans has been on our TV screens for much longer.
He claims 96% of Britons have come into contact with the adverts, but his character was originally to have been played by a thinner man, he said.
"I was to voice them, but then they thought they'd do it differently and use the archetypal fat opera singer."