Swansea council leader's porter idea for shoppers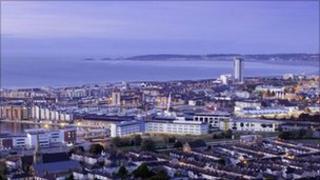 A porter service for shoppers is among a number of ideas being put forward to help revitalise Swansea city centre.
Council leader Chris Holley suggested the idea would help elderly and disabled people in particular.
Councillors will hold an extraordinary meeting on Thursday to discuss regeneration of the city centre and support for independent traders.
The meeting is in response to a motion by councillors urging a report by the chief executive into proposed action.
Traders have said the city centre is in a "dire" state.
They blame road works, high rent, and particular parking for problems in the centre.
"A key barometer of the health and vibrancy of the city centre is its footfall activity," said chief executive Jack Straw.
"The levels of footfall activity recorded within the city centre have been decreasing for a number of years, with a marked reduction in footfall over the last two years, which is almost certainly linked to reduced consumer confidence due to the recession.
"The increasing competition from out of town retail parks and new development openings in Cardiff and Bristol, together with the growing popularity of internet shopping have further impacted on footfall."
His report suggests 31 "urgent and immediate interventions" that could be made to improve a number of aspects to the city centre.
They include promoting the existing free parking and the other parking offers already in place, and asking the Welsh Government to ensure car parking becomes a cost to out-of-town retailers through rent or rates.
Making the most of Swansea City's promotion to the Premier League - worth millions of pounds in tourism and trade - and a "shop local" campaign are other ideas.
Pick-up points
Interest-free loans to independent businesses and lobbying the Welsh Government for a reduction in rateable values of some businesses are also possibilities.
But the idea for porters has come from Swansea council leader Chris Holley.
"One of the complaints we had is that elderly people and disabled people can't carry much around the city centre," he said.
"The idea would be to employ three or four individuals for people in the city centre to use to deliver bags to pick-up points, car parks and the bus station."
Mr Holley said the intention would be to trial the scheme which is aimed at the smaller traders, but would be open to the larger retailers if they were interested.
Julie Williamson, chairman of the Federation of Small Businesses' Swansea Bay branch, said: "I think we would welcome anything in order to bring people into the city centre," she said. "This sounds pretty new.
"It doesn't just have to be the elderly or disabled, though. It could be used for people buying heavy items or larger purchases."