Police budget cuts hit Swansea bravery award officer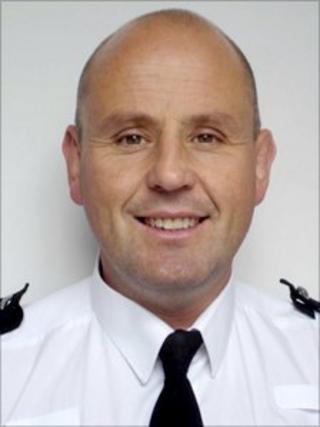 A police officer who has just picked up a bravery award has been told he has to retire because of budget cuts.
Sgt Kevin Brooks was in London on Thursday to pick up his award for tackling a driver who reversed a 4x4 vehicle over a police patrol car.
But because he has achieved 30 years' service he is being forcibly retired.
South Wales Police said it faces a £47m funding gap over four years and regretted losing some long-serving staff.
Sgt Brooks was called in to action in April 2009 after a driver was spotted using a hand-held phone in Swansea.
The man, driving a Nissan Terrano, was pursued by patrol car driver Pc Gregg Parry. The pursuit ended on a steep hill when the 4x4 reversed at speed into his patrol car.
The Nissan ended up on top of the police car, crushing the windscreen, and with only one wheel remaining on the ground. Pc Parry escaped and caught the passenger.
Sgt Brooks arrived at the scene to find his colleague's car crushed. He saw the driver get out of the 4x4 and run towards him.
He rugby-tackled the man to the ground and restrained him after a struggle.
Both officers needed hospital treatment after the incident. The 4x4 driver was jailed for six years in July 2009 at Swansea Crown Court after admitting dangerous driving and attempting to cause grievous bodily harm to a Pc.
Both officers were nominated as regional winners of the National Police Bravery Awards and they attended the ceremony on Thursday.
But Sgt Brooks' bravery has not stopped him from being forcibly retired in a move which the South Wales Police Federation said "tarnishes what should be a real celebration of the best and bravest traditions of the police service".
Federation chair Gary Bohun said: "Sgt Brooks is one of many officers being forcibly retired this year.
"I know this has greatly disappointed him as he loves his job and wanted to remain in work as a police officer.
"We're losing a skilled and hugely experienced supervisor at a time when our need for those skills is higher than it has been for many years."
South Wales Police said the retirement of officers of all ranks with more than 30 years' service was one way of making savings.
Deputy Chief Constable Colette Paul said: "It has inevitably meant that some officers, who would ideally have liked to stay on after their 30 years service, have not been given that option.
"We regret having to say goodbye to loyal and experienced members of the force but difficult decisions have had to be made in these difficult times."