Views sought on Carmarthenshire's planning blueprint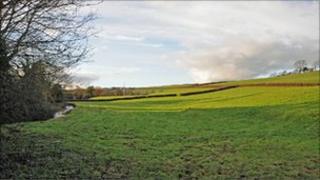 A blueprint that will govern planning applications in Carmarthenshire for the next 10 years is going on show.
It allocates land for housing and employment and shows where developments will be permitted and areas of the countryside that will be protected.
The plan allows for over 15,000 new homes in the county which critics say is too many.
The council says development would be phased and meets population demands.
Residents in the county are being urged to view the draft document and make suggestions.
The first consultation event takes place at Ammanford Library later on Monday and continues until 28 July.
Every authority in Wales must produce a local development plan.
Carmarthenshire's plan estimates the county's population will grow by 14,380 by 2021 and it will need 15,197 new homes.
Carmarthen town councillor Alun Lenny raised concerns about the number of houses that could be built there.
"The development planned for just outside Carmarthen is on a greenfield area and is for 1,200 homes, housing about 3,000 people," he said.
"That's equivalent to a town the size of Llandeilo or Kidwelly and will have a huge impact.
"When the new plan is adopted, this could mean overdevelopment of more areas in the county."
He also questioned the wisdom of holding the main consultation over the summer holidays and only putting the plans on show for one day at a time.
A council spokesman said the principle for development in the area was adopted in 2006 as part of the previous unitary development plan and has already been subject to "rigorous" consultation and a public inquiry.
Carmarthenshire's executive board member for regeneration Clive Scourfield said: "Many residents have already provided the authority with valuable assistance in terms of evidence gathering and consultation feedback.
"I would urge residents to take this opportunity to play a further part so that we can continue to work together to deliver our shared vision for the future of our County."
The plan and associated documents are also available on the council's website.
The consultation closes on 19 August.