Mullany honeymoon murders: Gunshot residue on clothes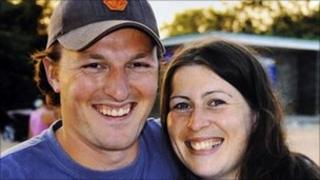 Gun shot residue was found on clothes belonging to two men accused of killing a Welsh couple on honeymoon in a Caribbean resort, a court has heard.
Ben and Catherine Mullany, both 31, from Pontardawe, Swansea Valley, died after being shot at the Cocos Hotel and Resort, Antigua, in July 2008.
Avie Howell, 20, and Kaniel Martin, 23, deny murdering the couple
UK forensic expert Christopher Moynehan said the residue was on various items of their clothing.
He also told Antigua's High Court the residue was consistent with spent cartridges that he had been asked to examine.
The clothing was recovered when police executed search warrants at the properties where the accused were living.
They are also on trial for the murder shopkeeper Woneta Anderson, 43, on the island.
The court has heard from DNA specialist Clare Stangoe who said a blue bandanna found at the scene of Ms Anderson's shooting had traces of Mr Howell's saliva on it.
She said she could not say whether all of the saliva samples were placed on the bandanna at the same time, but it was her opinion that it had come in direct contact with Mr Howell's mouth or had been in contact with a surface bearing substantial amounts of his wet saliva.
Search warrant
Mr Martin's girlfriend, and the mother of his child, has also given evidence.
She had been living with him at the Montgomery Hotel for about a week when the police executed a search warrant.
She said she had known Mr Martin for 14 years.
She said she had also known Mr Howell for several years and that he and Mr Martin were friends.
On the night of the Mullany murders she told the court that she was living at her mother's house and did not recall seeing Mr Martin.
But she said she saw him around 10am on 27 July, 2008, by his grandmother's house.
The prosecution say the couple were shot in an apparent botched robbery in the early hours of that day.
Mrs Mullany, a doctor, died instantly and her husband, a former policeman who was a physiotherapy student at the University of the West England in Bristol, was placed on a life-support machine.
Mr Mullany was flown back to Morriston Hospital in Swansea but died a week later.
The trial continues.