Campaigners meet coastguard chief over Swansea closure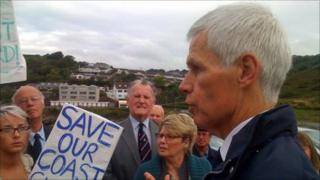 Protesters have told the Maritime and Coastguard Agency's chief executive of their anger over the planned closure of the Swansea station.
Sir Alan Massey was greeted by around 25 protesters at Mumbles on Tuesday.
The UK Government announced it will close by 2015 as part of a review, although closures were scaled back.
Stations at Milford Haven and Holyhead, which had both been earmarked for closure, are among eight to remain open.
The Welsh Government has said UK ministers would have to "account for any consequences" for sea safety.
Swansea had been scheduled for a downgrade under original plans, with Milford Haven and Holyhead listed for potential closure.
Strong local protests, including lobbying Sir Alan when he visited Milford Haven in February, sparked the policy change.
Campaigners argued that as well as watching over the UK's third largest port, the Milford Haven centre also watched over the coastline from Carmarthen to Barmouth, an area which is typically very busy with tourists and leisure craft.
Swansea, which has 28 personnel, is now one of eight coastguard stations which will undergo phased closures between 2012 and 2015.
The details were revealed in a Commons statement by Transport Secretary Philip Hammond, who said that Holyhead was being favoured instead of the MCA base at Liverpool following representations over Welsh language concerns.
He said Swansea was being closed instead of Milford Haven in Pembrokeshire due to the higher level of government employment in the city.
There will now be a consultation period before the changes are implemented.
Sir Alan told about 24 campaigners: "I don't make those judgements as the Maritime and Coastguard Agency's chief executive.
"Ministers have made their judgement based on employment and that's way above my pay grade."
'Public outcry'
He said he would encourage people to contribute to the consultation because ministers had "walked back from" the original plans because they listened "to the public outcry".
Sir Alan told BBC Wales he was not expecting "the warmest reception of my life", but added that he was "doing what any chief executive should do, which is facing the music with my people".
Asked if he could understand staffs' unhappiness, he said: "Of course I can, but I'm prepared to stand up and be counted.
"I'm not going to try and run this from Southampton, I'm going to get nice and cold here in the middle of July in Swansea."
Sir Alan was holding a question and answer session with staff.
One campaigner said they learned about Sir Alan's visit at short notice, otherwise the turn-out would have been better.
She added: "I think we did put our point across.
"Whether he'll take any notice of what we say is another thing. I mean, they have already done a U-turn on Swansea.
"Swansea is the best station in Wales and really it should be more about saving lives than saving jobs in another coastguard station.
"It should be about saving lives and keeping the best station open."
The protesters later dispersed.