Karen Skipper murder: John Pope convicted at retrial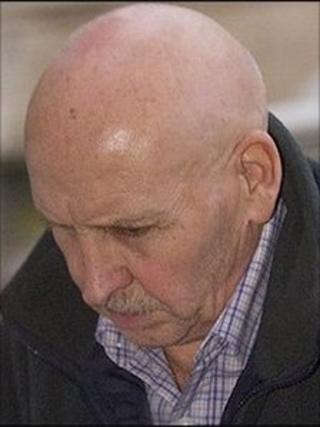 A man has been convicted for the second time of murdering a woman from Cardiff in the 1990s.
Newport Crown Court heard the partially clothed body of Karen Skipper, 34, was found in the River Ely in 1996.
John Pope, of Cardiff, now 62, was convicted of her murder in 2009 but his conviction was quashed on appeal.
Prosecutors said it vindicated their case through two trials and they hoped the verdict would bring "comfort" to her family.
Ms Skipper's former husband Phillip stood trial for her murder in 1997, but was cleared.
The jury in Pope's second trial, who had been deliberating since last Friday, returned their guilty verdict by majority of 11 to one.
The court heard that the murder investigation was reopened with Pope as the suspect after improvements in forensic science.
One nagging doubt at Mr Skipper's trial was a blood stain found on the lining of of Mrs Skipper's pocket, the jury was told. The blood stain's DNA did not match either her or her husband, who has since died.
In 2006, Pope gave a sample of DNA after he was arrested for another offence. In 2007, a review of unsolved cases found that sample matched the DNA on the blood stain.
The court was told that just before midnight on Sunday 10 March 1996, Karen Skipper had been walking her two dogs along the riverbank at Birdie's Field between Ely and Fairwater.
She was attacked, her lower clothes removed, her hands tied tightly behind her back with leads and dog chains, before being thrown into the river where she drowned.
Shortly before the attack, witnesses reported seeing a man nearby wearing a distinctive three quarter length wax coat and a rucksack.
'Vindicated'
The jury were shown a wax jacket taken from the defendant's home when he was arrested, which he said he wore habitually.
The prosecution described the jacket's condition as "immaculate" suggesting that Pope had disposed of the jacket and rucksack he wore on a daily basis because he was concerned it would incriminate him.
Ms Skipper's body was found in the early hours of the morning by a man walking his dog.
Ms Skipper's estranged husband Phillip was originally tried for her murder in 1997 but was acquitted. He died of cancer in 2004, aged 48.
After the case, senior investigating officer, Det Supt Stuart McKenzie said the thoughts of police remained with the family and friends of Ms Skipper, as well as the family of Phillip Skipper.
"Karen's tragic death devastated the lives of an entire family and brought shock and sadness to people across Cardiff, but particularly those living in Ely and Roath where Karen was a popular member of the community," said Det Supt McKenzie.
"We hope today's verdict will finally allow Karen's family and friends to move forward although we know that they will never get over losing her so brutally."
After Thursday's verdict, the Crown Prosecution Service said: "Following John Pope's original conviction in 2009, a witness came forward to inform the police that her original statement, which was reviewed as part of the case against John Pope, was materially incorrect in an important aspect.
"These matters were raised by the defence team through the appeal process, which is an invaluable element of the criminal justice system."
Grenville Barker, senior crown prosecutor for CPS Wales complex case unit, added: "The decision of the jury today has vindicated the decisions to investigate and prosecute John Pope for the murder of Karen Skipper through two trials.
"As the final chapter in these criminal proceedings closes with the conviction and imprisonment of Karen's killer, we also hope today's verdict will bring an element of comfort to her family and friends."