Swansea coastguard: Campaign launched to save station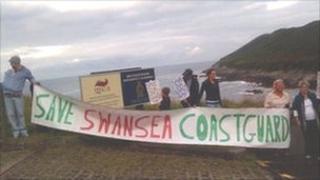 A campaign has been launched to try to prevent the closure of Swansea coastguard station.
A public meeting was held in Swansea on Friday, following the announcement that the station is to close.
It was decided that there will be a public campaign, with rallies and a petition, to save the station.
Swansea is one of eight stations set to close by 2015, and the Maritime and Coastguard Agency says the new set-up will be more effective.
South Wales West Assembly Member Suzy Davies, who was at the meeting in Mumbles, said it was packed, and there were questions to be raised about the consultation which had led to the decision to close the station, which has 28 staff.
Mrs Davies told BBC Radio Cymru that the experience of Swansea coastguards in dealing with emergencies in the Bristol Channel was not taken into consideration.
'Shock'
On Friday, the Public and Commercial Services union (PCS) said it was shocked that staff at the Driver and Vehicle Licensing Agency (DVLA) in Swansea were banned from circulating a petition to save the station.
PCS had asked its members at the DVLA's Morriston and Llansamlet offices to gather signatures in support of efforts to defend the coastguard station at Mumbles.
The union's industrial officer Mike Hallinan said it was "completely over-the-top... to try and stop staff from supporting an issue that everyone in the community of Swansea is concerned about."
He appealed to DVLA management to "see sense and avoid alienating their employees by imposing unwarranted restrictions on their freedom of speech".
A DVLA spokesperson said the agency had declined the request because "it is not the DVLA's policy to permit political campaigning which is against government policy on government premises".
Stations at Milford Haven and Holyhead, which had both been earmarked for closure, are among eight to stay open.
Swansea coastguard dealt with 2,074 alerts in 2010, while Milford Haven, which watches over the UK's third largest port, and the coastline from Carmarthen to Barmouth, handled 1,006.
A consultation on the proposals closes on 6 October.
The consultation document by the Maritime and Coastguard Agency said a "new concept of operations" would see nine 24-hour bases around the UK, co-ordinated from Southampton.
It said: "Within this single national network, coastguard officers will be able to deal more effectively with the seasonal and diurnal peaks and troughs of activity.
"Similarly, in the event of a major emergency, it will be possible rapidly to direct a greater number of officers to the task to ensure a timely, capable and appropriate UK response."