Royal Welsh soldier Barry John's art inspired by war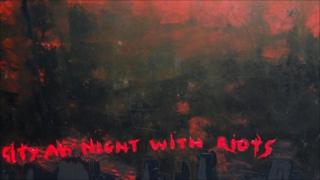 A Royal Welsh soldier is staging an exhibition of paintings inspired by riots, genocide and geisha girls.
Colour Sgt Barry John, 37, from Neyland in Pembrokeshire, has served in Israel, Kosovo and Northern Ireland since he joined at 16.
He has used his artistic talents to create paintings based on the conflicts that he has witnessed in service over the years.
He also runs art classes for victims of combat stress.
Since 2003 the colour sergeant has exhibited paintings and installation work in Wales, Wiltshire, Devon and North Yorkshire.
One work will be shown as part of the Armed Forces Art Society's 77th annual exhibition at the Mall Galleries, London, from 26 to 31 July.
Garrison town
"I have travelled to many countries from Jamaica, Korea, Kosovo, Northern Ireland, Cyprus, China, Israel and USA and have had many experiences that have informed the artwork that I have done," he said.
In February, Colour Sgt John, who serves with 2 Battalion Royal Welsh Regiment, had 10 paintings chosen for an arts project called Other Worlds at the John Creasey Museum in Salisbury, a key garrison town.
"The exhibition was to show life and military experiences through the medium of art, and was met with great success," he said.
The project is set to tour, with a final exhibition in October.
Colour Sgt John was awarded the MBE for his services to military recruiting and the community in the 2010 New Year honours list.
"I initiated new schemes and meetings with veterans and ex-service personnel dealing with mental health issues to participate in activity sessions involving boxing pad lessons followed immediately by an expressive art session," he said.
"These had a great personal benefit to the ex-soldiers that attended," he said.
Although he has had no personal experience of post-traumatic stress disorder (PTSD), Colour Sgt John was trained in clinical stress debriefing and PTSD in his military role.
He said his art was "heavily influenced by these events".
"I feel the need to put down the stories on canvas, but also portraying the importance of the British military role in the face of international terrorism and also tribal and religious genocide," he said.
Colour Sgt John was recently awarded the templar award from the Armed Forces Art Society. He has also been made a mentor with the society for combat stress.
He now aims to launch an exhibition in Wales "to take my work to a larger audience", and to "assist in the recovery of soldiers with physical and mental injuries".