Fforestfach tyre fire site is demolished and made safe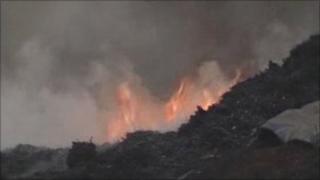 The site of the major fire in Swansea has now been cleared and made safe, say officials.
Contractors have demolished the building where 5,000 tonnes of tyre flock, a by-product of tyre recycling, burned for three weeks on Fforestfach industrial estate.
Swansea council says all debris and remaining tyre flock has been removed.
The cause of the fire which started on 16 June is still being investigated by police and the fire service.
The council and Environment Agency Wales have overseen the clean-up where "steps have been taken to make the site secure".
Final bill
Roger Thomas, group manager with Mid and West Wales Fire and Rescue Service, said the scene of the demolished site highlights the scale of the incident.
"This was a major fire that presented unique challenges to the agencies dealing with it," he said.
Specialist equipment was used to demolish the former Mettoys factory and remove the burning material in sections before immersing it in large water-filled tanks and temporary dams created on-site.
The agencies involved in the operation included South Wales Police, Public Health Wales and Abertawe Bro Morgannwg University Health Board.
Last month it was revealed that the final bill for fighting the fire is expected to run into millions of pounds.
Disposing of the waste alone will cost around £800,000.