12 puppies dumped by Penllergaer road in recycling box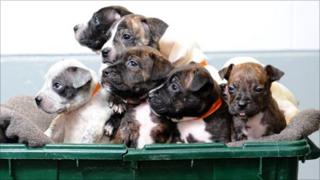 A dozen puppies are said to be recovering well after they were dumped by the roadside in a recycling box.
The five-week-old Staffordshire bull terrier cross pups were crammed "like sardines" in the tub at Penllergaer, near Swansea, and found the next day.
They were taken to the city's RSPCA animal centre where staff found they had been ill-treated since birth but expect them all survive and to be put up for adoption.
South Wales Police are investigating.
The badly dehydrated puppies were said to be too weak to climb out of the bin when they were dumped, sparing them the danger of passing traffic.
Llys Nini Animal Rescue centre manager Laura Simpson said: "They were in a bad way after being packed into the bin like sardines. It is staggering that someone could just put them out like the rubbish.
"We have treated them with emergency fluids and antibiotics - all 12 have bounced back."
Vets tended the pups after they were brought in to the centre, barely half a mile from where they were found.
But staff at the animal shelter fear more pets will be dumped as more people decide they can no longer afford to feed them.
Ms Simpson said: "If the owners were struggling, they should have brought them to us, not abandoned them."
The pups have not yet been named. They are expected to be put up for adoption in three weeks.