Dewi Evans given life for Pontyberem murder of wife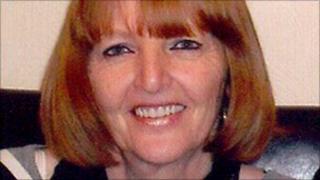 A former miner who stabbed his wife during a row over a cup of tea has been jailed for a minimum of 11 years.
Dewi Evans, 61, killed his wife Jackie, 57, at their home in Pontyberem, Carmarthenshire, in November 2010 by stabbing her four times in the neck.
Evans was given a life sentence at Swansea Crown Court and told he could not apply for parole before 2022.
He admitted manslaughter but denied murder, claiming a temporary loss of control, and was convicted last Friday.
Mr Justice Lloyd Jones said Evans had murdered his wife after "a spontaneous eruption of violence".
He said Evans had cast a permanent shadow over his family.
'Having affairs'
There was evidence, he added, that Evans had also punched his wife in the face and tried to strangle her.
The jury rejected his claims that she had stabbed him first, said Mr Justice Lloyd Jones.
During the trial the jury heard Evans told police he and his wife had "a silly argument" which developed into a row and ended with her stabbing him in the stomach. He responded by stabbing her.
Evans told police he had loved his wife and became obsessed with her. He often accused her of having affairs with other men even though he knew "it was all in my mind".
He said he had received therapy for his condition. He said: "I loved the girl."
On the day of his wife's death on 11 November he had offered her a cup of tea, but she had refused.
Within 60 seconds he had stabbed her to death.
Evans denied stabbing himself in the stomach.
Evans said it was true that his wife of 41 years had talked about leaving him, but he denied that was the cause of the argument.
Paramedics were called only when the couple's son, Carl, found his mother's body in the living room. By then she was already dead.