Mullany murder trial: Jury retires to consider verdict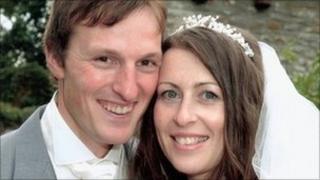 The jury in the trial of two men accused of murdering honeymooners Ben and Catherine Mullany in Antigua, has been sent out to consider its verdict.
Judge Richard Floyd sent the jury out at 1255 local time (1755 BST), on the third anniversary of the Caribbean shootings.
Kaniel Martin, 23, and Avie Howell, 20, deny killing the couple, of Pontardawe, Swansea Valley, on 27 July, 2008.
The judge previously told jurors to stay focused.
He has also urged them not to be swayed by public opinion.
The couple, both 31, were shot in their resort cottage two weeks after they married.
Mr Mullany, a student physiotherapist, and his wife, a doctor working at Morriston Hospital, Swansea, died after being shot in the back of the head at the Cocos resort.
The court has heard Mrs Mullany died almost instantly and Mr Mullany a week later after he was flown back to Swansea on a life-support machine.
The following month Mr Martin and Mr Howell were charged with their murders and that of 43-year-old shopkeeper Woneta Anderson.
The case continues.