Mullany murder trial: 'Killers showed no remorse'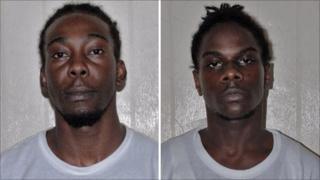 The killers of a couple murdered on their honeymoon have never shown any remorse, the British police officer who led the investigation said.
Ben and Catherine Mullany were shot at close range in their chalet in Antigua on 27 July, 2008.
Kaniel Martin, 23, and Avie Howell, 20, were found guilty of murdering the couple from Pontardawe, Swansea Valley.
Metropolitan Police Det Supt Keith Niven said he believed their main aim was to kill.
They stole two inexpensive mobile phones, a cheap digital camera and a small amount of money in the attack on Dr Mullany and her husband, who has been married a fortnight when they were killed.
Two weeks later, the pair - nicknamed "Sample Dan" and "Demon" - carried out an identical attack on local woman, Woneta Anderson, 43, breaking into her shop, taking two mobile phones and a handful of top-up cards.
"Neither defendant has showed any signs of remorse throughout the investigation or throughout this trial - even though the families of their victims have been present," said Mr Niven.
He led the British team called on by the Antiguan authorities to assist the investigation.
'Violence'
"Such is a disproportionate level of violence when balanced against the low value of property stolen, that leaves me to believe that the murders were the primary objective and the theft was a secondary intention," he said.
"I had hoped that this trial would have established the reasons why such levels of violence were inflicted.
"They both chose not to provide an account of their actions."
The police officer paid tribute to Mr and Mrs Mullany.
Mr Niven said: "As highlighted throughout this trial, Ben was a former police officer and member of the British Army. He had served his community and his country.
"At the time of his murder he was training to be a physiotherapist intending again to provide a valuable service to the community.
"Catherine was an eminent doctor, who had excelled in numerous specialised areas within the medical profession.
"Upon her return home to Wales she intended to continue her support to her local community as a GP.
"Ben and Cath were two hard working, talented and thoroughly decent individuals - who had everything to live for and so much more to give."