Warning over algae level rise at Llysyfran Reservoir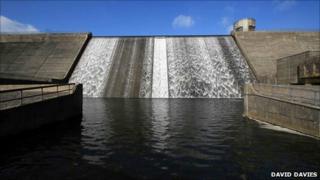 Levels of a potentially toxic blue-green algae found in a reservoir near Haverfordwest have prompted a safety warning from officials.
Pembrokeshire Council and Public Health Wales have asked Llysyfran reservoir owners, Welsh Water, to temporarily restrict activities such as swimming.
The council said the Environment Agency had carried out tests and would continue to monitor the situation.
The build up of algae is a natural occurrence during warm conditions.
The council said the blue-green algae produced toxins which could cause skin rashes, nausea, vomiting, stomach pains, fever and headaches if swallowed.
Occasionally it can cause more serious illness such as liver and brain damage.
The council said children were at greater risk than adults of developing problems.
An outbreak of blue-green algae at Aberffraw on Anglesey was confirmed by Environment Agency Wales in July last year.
Powys council spent more than £400,000 restoring Llandrindod Wells lake after the build up of blue-green algae killed hundreds of fish in the summer of 2006.