Bid to save Cwrt Sart school in Briton Ferry steps up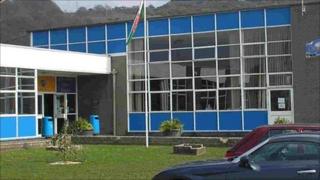 More than 3,000 people have signed a petition opposing to plans to close a Neath school.
Cwrt Sart secondary school in Briton Ferry is one of three earmarked by Neath Port Talbot council (NPTC) as part of reorganisation plans.
The council blames falling numbers and age of buildings and it wants to build a £27m super-school in Baglan Moors.
Sandfields and Glanafan comprehensive schools are the other two set for closure by 2016.
"The governing body and campaign supporters are not opposed to the local authority reorganising local education," said Teifion Rees chairman of the school's governors and their Save Our Community School Committee (Socs).
"What we are opposed to is the council's view that Cwrt Sart is part of the problem it faces and therefore needs to be closed.
"Our view is that given Cwrt Sart's academic track record and the pivotal role it plays in the two local communities of Briton Ferry and Melincryddan, it should remain open and therefore play a positive role in local education restructuring."
Neath-based school
Mr Rees said while the other two schools were based in Port Talbot, Socs saw Cwrt Sart belonging to the Neath community as it was based in Briton Ferry.
He said he hoped the council would reconsider its proposal to shut Cwrt Sart and enter into "a meaningful dialogue with us to fully explore alternatives to closure".
"We have a number of positive suggestions to make which we would like to share with the authority," he added.
"We hope that we can, together, work towards a plan that will include the retention of our school and address some of the issues facing the provision of education in our locality."
NTPC's strategic school improvement programme report shows a drop in pupil numbers at the three schools over a 10-year period from a total of 1,998 in 2000 to 1,711 in 2010.
It predicts, by 2016 that figure will drop to 1,289.
It also says "significant" investment is needed to bring the three schools existing premises up to standard with figures totalling £14.1m
One of the options for the Cwrt Sart site proposed by the council would possibly be using it for a Welsh secondary school or releasing it for community use including a health centre.
Super school
The council's cabinet approved the proposed closures in October 2010.
The authority has already submitted a bid for £40m to the Welsh Government for funding for the super-school and other projects in its strategic school improvement programme.
But Education Minister Leighton Andrews said last month that he intends cutting the funds available to local authorities, as part of the Welsh Government's national school building programme, 21st Century Schools.
It means NPTC would have to find other ways of raising money.
But it has said that if funding for a new super school cannot not be raised, then Cwrt Sart and Glanafan will still close and move to an extended Sandfields school or a new-build on that site.
Neath Port Talbot council has been asked to comment.