Dictionary to record Gower dialect in heritage plan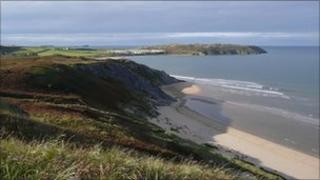 A dictionary to record the dialect of people living on the Gower peninsula is one of a number projects which could benefit from Heritage Lottery funding.
Gower, near Swansea, has been earmarked to receive money from the Heritage Lottery Fund (HLF) through its landscape partnership programme.
Swansea council leads the partnership which is made up of 21 organisations.
Much of the money will go towards protecting and restoring the heritage features of the landscape.
Gower, which was the UK's first designated area of outstanding natural beauty, contains Neolithic chambered tombs, bronze age ritual sites, iron age hill forts and a 16th Century salt house.
In partnership with landowners, the proposed work will include the conservation of these sites, controlling invasive species and managing small woodlands and wet fields.
Volunteers will be given training in oral history skills to research and collect people's memories of Gower, as well as IT skills to help create a website which will act as a virtual visitor centre.
They will also be trained to take surveys on ancient hedge banks and collect information on the coast water to help monitor climate change.
As well as this, a programme of activities will take place to encourage the local community, schools, universities and educational groups to get actively involved in conserving and learning more about the heritage and character of their local landscape is at the heart of the four year scheme.
Other projects include the dictionary which is a mixture of Welsh and English with specific names for plants and animals, not heard anywhere else in Wales.
Peculiarities of Gower dialect are thought to have developed due to its geography and were recorded in the mid 19th Century.
The announcement marks the first stage in a bid to secure more than £1m funding for Gower from the HLF.
It is no guarantee of final funding but seen as an indication of positive support.
Dan Clayton Jones, chair of the Heritage Lottery Fund Committee for Wales, said the project looked to protect and enhance Gower's landscape.
"Gower's unique cultural heritage is also at risk as the generation of people who remember events and activities that reinforce a sense of place are dying out and this project will record these memories," he said.