Swansea coastguard rescue six people cut off by tide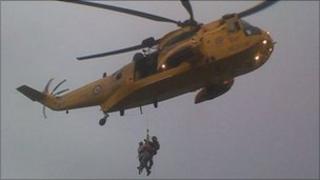 Six people were rescued in two separate incidents on the Swansea coast after being cut off by the tide.
Four teenaged girls were airlifted to safety by an RAF helicopter after becoming stranded in Langland Bay on Sunday at 18:10 BST.
And an inshore lifeboat rescued two people at 19:30 BST after they had difficulty close to Mumbles lighthouse.
A Swansea Coastguard spokesman said: "People should check the tides if they are going to go out on the beach."
The helicopter rescue took place from rocks known locally as "Jenny's Gut" which is on a stretch of coast between Mumbles and Langland Bay.
Three of the girls rescued were 15, one was 14.
They had gone for a walk and became cut off by the rising tide.