Swansea City FC urged to pay more Liberty Stadium rent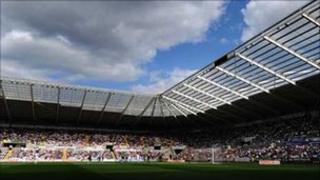 Opposition councillors in Swansea want the city's football club to pay more rent for their home ground.
Swansea City moved to the £27m Liberty Stadium in 2005 after the council paid most of the money to build it.
The new Premier League club pay a peppercorn rent to a loss-making management company running the stadium but the council has received nothing.
But Swansea council said it is "sad" that such a demand is being made when the club is "at the peak of its glory."
Swansea City declined to comment.
The Liberty Stadium is run by Swansea Stadium Management Company (SSMC), an arms-length body which is a partnership between the council, Swansea City and the Ospreys rugby team.
The sports teams contribute to the running costs of the stadium, with any profit made being returned to the teams and the local authority.
So far, SSMC has failed to ever return a profit which means no money has been paid back to the Liberal Democrat-run council.
But now with the Swans in the Premier League and netting a £90m fortune, David Phillips, leader of the Labour group on Swansea council, said that in a time of financial difficulty, that has to change.
"There's no doubt the city has been lifted by the club being in the Premier Division", he said.
"I think the financial aspect of this is the one that now needs to be addressed.
Business plan
"We've had the lifting of the spirit - now let's have the lifting of the bank balance.
"Let the council tax payer see the club is actually paying its way."
Council leader, Chris Holley, said he was disappointed by what the opposition's demands.
"We're on the verge of the city going into the top flight of football", he said.
"To turn round at the peak of their glory and say: 'right, we want some of that now' - I think that's quite sad.
"I'm happy that the Liberty Stadium is generating jobs, and not just one or two, but hundreds."
The council has also said a new business plan for the stadium is being worked out.
Mr Holley said it was "very close" to being completed.