Loughor Estuary saltmarsh trapped teenagers airlifted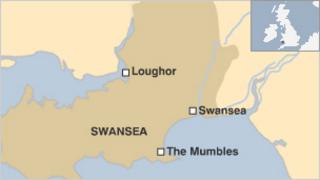 Two 15-year-old boys stuck on a salt marsh with the tide coming in were rescued by helicopter.
The father of one of the youths rang Swansea coastguard at 21:30 BST on Thursday to say they were out on their bikes somewhere in the Loughor estuary.
The teenagers, with their bikes, were airlifted to a car park before the tide rose. They did not need medical care.
Coastguards have urged youngsters to take care during the summer break and to be aware of the risks of the coast.
'Learn about the tides'
The rescue helicopter from RAF Chivenor landed on the salt marsh and the teenagers were able to climb in to it.
In addition to helicopter, coastguards also called out Loughor coastguard rescue team and the Loughor independent inshore lifeboat.
The Loughor Estuary or Burry inlet is known for flooding quickly.
Watch manager Steve Matthews, who had been a member of Loughor coastguard rescue team, was able to pinpoint exactly where the boys were after speaking to them on the phone.
He said: "Whilst it is understood that it is the school holiday and boys are out having fun and enjoying themselves, we would urge them to take care and be aware that there are dangers at the coast.
"We would urge everyone in going to enjoy the UK's coastline to take some time to learn about the tides and check the tide times before venturing out on to tidal areas."
The rescue is one of a number this week involving people who have become stranded.
On Sunday, six people were rescued in two separate incidents on the Swansea coast after being cut off by the tide.
In the largest incident, four teenager girls, three aged 15 and one 14, were airlifted to safety by an RAF helicopter after becoming stranded in Langland Bay, Gower.
On Tuesday evening, the RNLI's Porthcawl lifeboat Rose of the Shires was tasked to rescue a person cut off by the tide below the cliffs near Nash Point.
While returning to station, they were diverted to another person in a similar situation.