Woman and girl, seven, airlifted off Laugharne mudbanks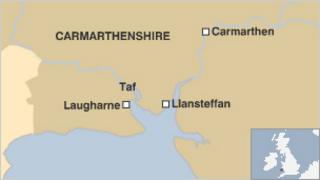 A 19-year-old woman and a seven-year-old girl were rescued after they were stranded in mud "up to their knees" on mudbanks near Laugharne in Carmarthenshire.
Dyfed-Powys Police said the two holidaymakers, from the Midlands, were trapped by the incoming tide in the Taf estuary.
The alarm was raised at 1100 BST and the force scrambled its helicopter.
Its crew rescued the woman and girl and flew them to Laugharne.
Insp Ian Richards of Dyfed-Powys Police said two inshore lifeboats from Llanstephan and Tenby were deployed by coastguards, as well as its search and rescue helicopter.
"But due to a delay at their end, they asked us to assist and so our police helicopter was the first at the scene," he said.
"Officers on board the helicopter were able to quickly find the woman and child and the decision was taken, because of the rapidly incoming tide, that the crew should try and rescue the pair.
"Basically, they were up to their knees in mud and wouldn't have been able to find their way to hard ground. But the crew were able to land themselves and rescue the pair, dropping them off safely at Laugharne."
He said the woman and girl were uninjured, but "very shocked after their ordeal".
The rescue served as a timely reminder for holidaymakers, he said.
"Carmarthenshire is a lovely place to come and spend a holiday, but visitors need to be mindful of the local conditions when they explore our beautiful coastline," Insp Richards said.