Bosherston Lakes fishing suspended due to low water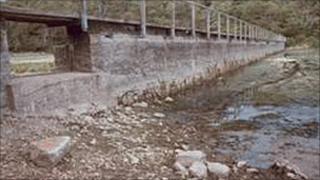 The National Trust has suspended coarse fishing at Bosherston Lakes in Pembrokeshire after the water fell to the lowest level since 1995.
The suspension at the water-way near Stackpole village will run from 12 August until at least 10 September.
Head ranger Chris Oliver said the water was not deep enough now to sustain quality wild fishing.
Bosherston Lakes are a man-made system created by the owners of the Stackpole Estate between the 1780s and 1850s.
"The angling season started here in June but there is now not enough deep water within reach of the fishing points," he said.
"Shallow water gets warmer, which doesn't suit the fish, and the area of open water shrinks.
"This isn't good for quality wild fishing, so we need to give the lakes time to refill."
The lake system usually drops in the summer and rises again in winter, but this summer there is "significantly" less water in the lakes.
Mr Oliver said after a drier winter than normal, followed by an exceptionally dry spring and early summer the water levels are at a four-year low.
"The lakes have been lower before, most recently in the summer of 1995, and there was a summer in the 1930s when they almost dried out," he added.
"So what we're seeing now is not new and certainly isn't making the place any less stunning to visit, but it's clear just how little rain we've had this year."