Pembrokeshire vows 'robust' policy after abuse report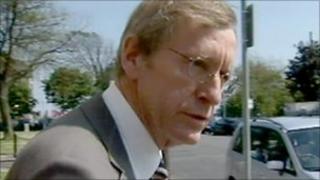 Pembrokeshire Council has promised a more "robust" policy in dealing with child abuse allegations, after a report exposed serious failings.
An inquiry cited "longstanding and systemic problems" at the council.
Coun Huw George told BBC Wales "no harm came to these children, to say that it was luck is not right".
Children's commissioner Keith Towler said the findings were "deeply disturbing" and showed "a culture that minimised safeguarding issues".
"I can't bring myself to understand how any authority can fail at so many levels," the commissioner told BBC Radio Wales.
"People were looking either to protect the reputation of a school or the reputation of the authority."
The Welsh Government is sending in a team to monitor the council after the Care and Social Services Inspectorate for Wales and school inspections body Estyn identified 25 cases of alleged child abuse in the education services.
The investigation was triggered by the case of primary school head teacher David Thorley, who was jailed in 2009 for sex assaults on children in his care.
The report found that staff made redundant were re-employed without references despite "known concerns".
And one of the county's schools provided false information in a reference for a former staff member stating they resigned their post when they had been dismissed for sexual misconduct with a young person.
The report also found Criminal Records Bureau checks and references were not effectively and consistently screened, cases that should have been managed as child protection investigations were dealt with as staff development matters.
Coun George, who is cabinet member for children and young people, told BBC Wales: "It is a challenge for us now to ensure that our processes and our procedures are strengthened in order to ensure the safety of children in Pembrokeshire."
Mid and west Wales AM Joyce Watson, who is a former leader of the opposition on Pembrokeshire Council, said: "My blood ran cold when I read this report.
"The children of Pembrokeshire have been let down badly by this authority, and their voices have been ignored.
"It appears that reporting mechanisms have failed, so when questions were raised they were overlooked or ignored. A systemic failure left our children exposed to potential exploitation."
'Children were not listened to'
Child protection expert Mark Williams Thomas said the fact that no children were harmed did not make the findings any less serious.
"It's all well and good saying we don't think that anybody was harmed...it's very clear that children were obstructed, children were prevented and not listened to in relation to abuse," he said.
"What we don't know is the risk."
The report came on the same day that Pembrokeshire's policies and systems for safeguarding children and young people were judged not fit for purpose by schools inspectorate Estyn.
CSSIW and Estyn started a joint inquiry following 25 cases of alleged professional abuse between 2007 and 2011.
In their joint report, they said: "In three of these [25] cases there was potentially an immediate risk of harm to children."
It also stated that in some instances "the duty to safeguard children has been outweighed by the consideration of the previous good record of staff" and that the views of the police and social services were ignored.
The report concluded: "That there has been a lack of oversight by elected members and officers, at the most senior level within the authority, of the management and handling of cases of alleged professional abuse in education services."