Electric car's land speed record bid in Carmarthenshire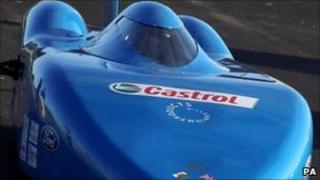 An attempt to break the UK land speed record for an electric car will take place in Carmarthenshire later.
Don Wales, 50, will try to break the 137mph barrier at Pendine Sands with the aim of reaching up to 160mph.
His late grandfather Sir Malcolm Campbell and uncle Donald Campbell famously held world speed records.
Mr Wales will compete against his 19-year-old son Joe in the speed bid in the super-fast Bluebird car, which was tested in Gloucestershire on Thursday.
The Bluebird team will be using this weekend's trials to test the super-fast car's technology and then to build a new electric vehicle for the future world record attempt.
The team hopes to bid for the world speed record in 2013.