Clampdown on unruly illegal Gower peninsula campers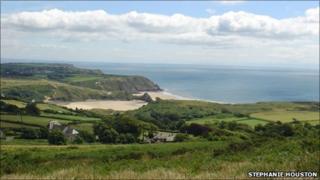 A clampdown is taking place on unruly behaviour by illegal campers at some of the Gower peninsula's beauty spots.
Large groups of drunk youngsters are seen as the biggest problem for authorities around the UK's first area of outstanding natural beauty (AONB).
Swansea council is trying to tackle the problem with the police, National Trust and the Countryside Council for Wales.
Beaches at Oxwich, Three Cliffs, Port Eynon, Horton and Whitford are the worst affected areas.
The sand dunes around Rhossili have also caused concern.
"It's a long-running issue," said Mike Scott, assistant AONB officer for Gower.
"Over the years what we've seen more of is people coming causing more disturbance, lots of mess and damage.
"What we tend to get is groups of six to 20 coming down for a party.
Litter
"There's a lot of fairly unpleasant behaviour. In the past, we've had one or two people threatened.
"These people get slightly drunk and they don't take kindly being asked to keep the noise down or tidy up.
"Police were called to Pennard at the start of the summer and found a large group who were behaving unjustly and they had to back off and call for more support."
Mr Scott said the groups are setting up camp for the weekend more and not just overnight, adding to the problems.
He also said they leave litter behind and also burning cheap tents they have bought instead of taking them home.
"It's not really fair on visitors coming down here," he said.
"We have the groups who have come down, they don't really bother to clean up after themselves and a lot of litter is left and people's property damaged.
"Some also can't be bothered to take tents back and they try to burn it instead."
Mr Scott said the Gower rangers, National Trust and the Countryside Council for Wales are working with the police to try to find a solution for the areas which are deemed key nature conservation areas.
"What it comes down to is confronting people fairly early on," he said.
Targeting areas
"We try to catch them before they get set up. The other approach is a very friendly early-morning wake-up call.
"If it's one or two coming down in a tent for one night it wouldn't be a problem.
"But really, if people want to come and camp, I would like them to come and camp providing its in the right place."
A spokesperson for South Wales Police said: "We will be maintaining our presence in the Gower targeting known problem areas alongside our partners.
"The local knowledge of the various agencies combined with that of police officers and PCSOs has meant specific targeting of areas where illegal camping has had an impact on residents living nearby.
"If we can address these issues of anti-social behaviour, we can prevent it deteriorating into more serious public order or criminal activity."