Swansea City fans set for Premier League opener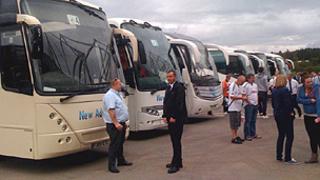 About 2,800 Swansea City fans are ready to head to Manchester City's Etihad Stadium for the club's opening Premier League fixture.
The Swans became the first Welsh side to reach the Premier League when they beat Reading 4-2 at Wembley in May's Championship play-off final.
Just eight years ago the Swans nearly dropped out of the Football League.
"It's going to be a massive occasion," said Phil Sumbler, chairman of Swansea City Supporters' Trust.
"There will be 2,800 Swans fans making the trip from all over the UK. For most they have waited a long, long time for this moment.
"At the inception of the Premier League [in 1992], reaching it was almost a distant dream that would probably never happen.
"It seems a long time since that final at Wembley, but it's the end of a long wait."
The Swans last graced the top flight in the early 1980s when they spent two seasons in the old Division One before being relegated in 1983.
Now they will be rubbing shoulders again with the best teams in the country, starting with mega-rich Man City, who finished third last season and won the FA Cup.
But like most teams who come up to the Premier League, the Swans have been tipped to go straight back down to the Championship.
"You don't know how sides are going to adapt," added Mr Sumbler. "The squad is stronger now than it was in the Championship.
"I think we will take the transition well but that's not to say it's going to be an easy ride.
"Supporters have been used to seeing a winning team but they have to accept they could lose more than they win."
Will Morris, an associate director of Swansea City FC, said there was great excitement among the fans, with everyone "looking forward to the campaign ahead".
Asked what he would regard as a measure of success this season, he said: "I think the bottom line is to finish above the bottom three. I think that would be judged as a success."
Alan Lewis, membership secretary of the Swansea City Supporters Trust, said there were about 2,500 fans heading to Manchester - a couple of hundred short of the full ticket allocation.
However, he said there would be plenty of support for the Swans.