Bluebird team vow to return to Pendine for speed bid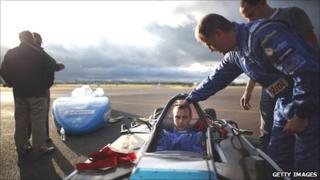 Sir Malcolm Campbell's grandson has vowed to return to the beach where his own son failed to smash the UK land speed record for an electric car.
Joe Wales was trying to break the 137mph record held by his father Don when Bluebird Electric hit a pothole at Pendine Sands in Carmarthenshire.
The car was damaged but the 19-year-old driver escaped with mild whiplash.
His father Don said: "The important thing is Joe is fine... I don't know if I could have done any better."
Joe Wales was aiming to become the fourth generation of his family to break a world speed record.
His great-grandfather Sir Malcolm Campbell and great-uncle Donald Campbell held world speed records on land and water, while great-great-grandfather Malcolm made his first record attempt on Pendine Sands in 1924.
Joe's father Don Wales, 50, from Addlestone, Surrey, was also attempting to break his own record, set in 2000.
But his own record bid had to be aborted after the car's suspension was damaged during Joe's run.
Don Wales was able to joke about the incident saying: "He's broken his dad's car - how does any son cope with breaking his dad's car?
"We're bitterly disappointed but the important thing is that Joe is fine," he added.
'Learn from it'
"Visibility on the course in a low car is actually quite bad - despite it being a really sunny day when you're in a low car for some reason it becomes almost impossible to see where you're going properly."
"This is Joe's first go on Pendine and I think in hindsight maybe I should have gone first.
"But the team decided Joe should go first to get his first record.
"I'm afraid that with the vibrations on the sand and the poor visibility, he just lost his way.
"I'm not going to blame Joe in anyway whatsoever. We need to learn from it and get some bigger markerposts, and if you have any doubts about running on the beach, not do it.
"I would like to come back to Pendine - it's a fabulous place. But I've always said it's a place you need to treat with respect."
"We've tried our best - we've come up short but we're here to live another day."