Mullany Prize award in memory of murdered honeymooners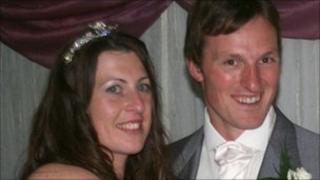 A physiotherapy graduate has been awarded a prize for excellence from a fund set up in memory of murdered Welsh honeymooners Ben and Catherine Mullany.
Chris Jones, who graduated with first-class honours from the University of the West of England (UWE), received £1,000 from the Mullany Fund.
Two men have been convicted of the 2008 murder of student physiotherapist Mr Mullany and his doctor wife in Antigua.
Mr Jones said he was humbled to be honoured by a "fantastic fund".
Kaniel Martin, 23, and Avie Howell, 20, were convicted last month of killing the couple, from Pontardawe, Swansea Valley.
They will be sentenced on 26 September. The director of public srosecutions on the Caribbean island has said he is considering asking for the death penalty.
The Mullany Fund awards two £1,000 prizes each year to a physiotherapy student and a medical student at UWE and Swansea University's School of Medicine.
Mr Jones plans to spend the money on a placement in a developing country.
"It's a fantastic fund that represents two people that so many people have heard of and everyone speaks very fondly of around the university," he said.
"There are a number of students I feel are worthy of this award and I feel very humbled to have received it."
Mrs Mullany's brother Richard Bowen said the family was "delighted" to give the award to Mr Jones.
"He has demonstrated a dedication and enthusiasm for physiotherapy, striving to achieve the best not just for himself but for others as well," said Mr Bowen.