Veg plots for Swansea's Vetch football ground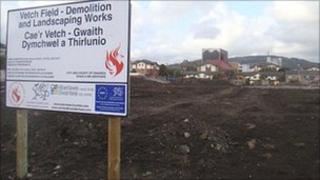 Part of Swansea's old Vetch football ground is to be used to grow vegetables.
The city council, which owns the land, has agreed runner beans, carrots and cabbages can be planted there pending redevelopment.
It has been searching for a developer for the ground near the city centre since the club moved to the Liberty Stadium in 2005.
The Vetch was demolished earlier this year at a cost of £700,000.
The idea of using the site for allotments won the backing of the city's Green Party in February.
Now the council has confirmed it has given it its blessing.
A spokesman said: "We have agreed that food growing areas can be set up in the short-term at the Vetch but this is a temporary measure pending redevelopment of the site.
"The temporary scheme will allow vacant land to be used in a way that benefits the community until development proposals for the site progress."
The economic downturn has been blamed for lack of interest from developers.
There were plans for 120 homes, a play area and a community centre but they have not progressed.
Swansea currently has about 320 allotment plots on 15 sites across the city but there are over 300 people on a waiting list.
The council spokesman added: "The temporary project will give people the chance to enjoy exercise and nature whilst growing their own food and will also allow education on environmental issues such as recycling and sustainable drainage.
"It will be a demonstration project that will raise awareness of the potential for community food growing across the city."