Swansea City make Arsenal Premier League ticket apology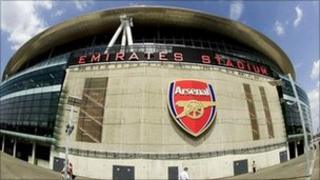 Swansea City have apologised after technical problems forced the club to suspend ticket sales for next month's Premier League trip to Arsenal.
Tickets became available online on Monday initially to members of the Jack Army (JA) ticket scheme for fans.
But many who also have season tickets were told their memberships were inactive, despite being able to get tickets for the last away game.
The club said sales would resume on Wednesday.
The 2,914 ticket allocation for the Arsenal game on 10 September is not sold out, it said.
Angry supporters have been voicing their problems on Swansea City message boards.
Website
One said: "I think there seems to be a problem with people who [are] both JA members and [have] season tickets.
"I'm only a JA member and I got my tickets within a few minutes of logging in."
Another fan added: "If non-season tickets are getting priority then the only thing the club can do to rescue the situation is to nullify all sales."
Tickets were due to go on sale at 10:00 BST but did not appear on the purchasing page until about an hour later.
Many supporters encountered the problems, leading to the announcement of a suspension of sales.
But between the announcement and sales on the website being suspended some fans did get their hands on tickets.
"Tickets for Swansea City's Premier League match at Arsenal will go back on sale at 10am on Wednesday to Jack Army members," said a club statement.
"A software fault disrupted today's sales and they were suspended until the issue was investigated fully, and the matter will be resolved tomorrow.
"We apologise for any inconvenience this may have caused."
A revised plan of who can buy tickets when can be found on the club's website.
Swansea have this season become the first Welsh club to play in the Premier League.
The Swans picked up their first point in their opening home match in a goalless draw against Wigan Athletic on Saturday.